Uttarakhand 2018 Current Affairs(Update Till 31st May 2018- Yearly PDF Module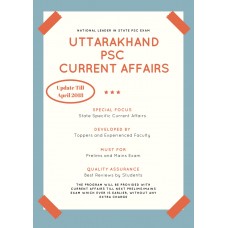 Dear all we have released the current affairs pdf modules till 31st May 2018. The said module will be updated till UKPCS Prelims Exam 2018 without any extra charges.
Best Study material for UKPCS Prelims or Mains Exam Current Affairs
Updated Till April 2018 (will be updated till UKPCS 2018 Prelims exam)
Special focus on Uttarakhand News
525 Pages quality study material designed by toppers.
Medium of All Notes and Tests furnished by PSCNOTES.COM is English Only
Further all individual modules are in PDF Format, ie digital files only. Product untill specifically mention as printed/hardcopy are PDF or digital format only.
For any doubt kindly contact us