Paper IV  A(Indian Constitution & Polity) JPSC MAINS PDF MODULE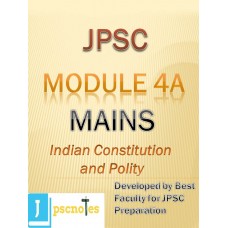 Section (A) - Indian Constitution and Polity
(I) Preamble of the Indian Constitution (Secular, Democratic and Socialist-Philosophy behind It)
(II) Salient features of the Indian Constitution. ; Basic structure of the Indian Constitution.Concept of Public Interest Litigation
(III)Fundamental Rights & Duties
(IV) Directive Principles of the State Policy
(V) Union Government :
(a) Union Executive ; Powers and functions of President, Vice President, Prime Minister and the Council of Ministers : Functioning under a Coalition Government.
(b) Union Legislature : Lok Sabha and Rajya Sabha: 0rganisation and Functions; Law making process;Parliamentary Committees; Parliament's control over Executive; Privileges and immunities of Parliament and its Members
(c) Union Judiciary : The Supreme Court ; its role and powers- Principles of Natural justice & Rule of Law, Judicial Review and Judicial Activism
(VI) State Government
(a) State Executive : Powers and functions of Governor, Chief Minister and the Council of Ministers
(b) State Legislature : Organization, Powers and functions, with special reference to Jharkhand
(c)State Judiciary; High Court: Organization, Powers and functions; Subordinate Judiciary. and the Municipalities : Constitution, powers, The Panchayats functions and responsibilities with special reference to 73rd and 74th Constitutional amendments
(VII)Centre-State Relationship:Administrative, Legislative and Financial .
(Vill) Provisions relating to Administration of Scheduled Areas and Scheduled Tribal Areas.
(IX)Special provisions relating to reservation of seats for S C and ST. in Legislature,Services etc
(X) Emergency Provisions of the Constitution
(XI)Comptroller & Auditor General of India (CAG) .
(XII)Election Commission of India
(XIII) Political Parties and Pressure Groups.
Medium of All Notes and Tests furnished by PSCNOTES.COM is English Only
Further all individual modules are in PDF Format, ie digital files only. Product untill specifically mention as printed/hardcopy are PDF or digital format only.
For any doubt kindly contact us