APSC PDF Module 6A Assam Geography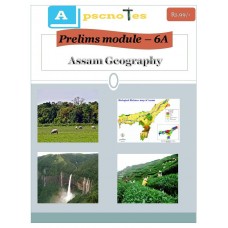 Assam :Geographical location,

Assam :Relief and Structure,

Assam :Climate,

Assam : Soils,

Assam :Drainage system,

Assam :Vegetation,

Assam :Wild life and Ecotourism,

Assam :Minerals,

Assam :Agriculture,

Assam :Animal Husbandry,

Assam :Fishing,

Assam :Horticulture.

Assam :Irrigation,

Assam :Major Cities and Tourist Places,

Assam :Populations ,

Assam: Migration

Assam :Schedule Tribes,

Assam :Transport Network,

Assam :Power Resource

Assam :Industrial development,

Assam :Natural hazards and other related aspects.
Medium of All Notes and Tests furnished by PSCNOTES.COM is English Only
Further all individual modules are in PDF Format, ie digital files only. Product untill specifically mention as printed/hardcopy are PDF or digital format only.
For any doubt kindly contact us