HPCS PDF Module 4A Haryana Economy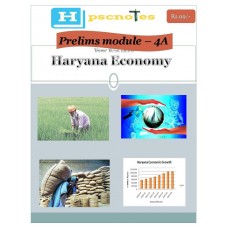 An Introduction to Haryana Economy

Main Features of Haryana economy

Main Features of budgets of Haryana,

Haryana Natural Resources

Haryana energy resources,

Haryana Transport

Haryana Trade,

Haryana Commerce,

Haryana Industries

Haryana Industrial Policy

Haryana Schemes and Projects,

Haryana Tax and economic reforms,

Haryana Planned development,

Haryana Agriculture,

Haryana Live Stock,

Haryana Food security,

Haryana Public Finance and fiscal Policy,

Haryana Census,

Haryana Human Development Index,

Haryana Tourism,

Other related aspects.
Medium of All Notes and Tests furnished by PSCNOTES.COM is English Only
Further all individual modules are in PDF Format, ie digital files only. Product untill specifically mention as printed/hardcopy are PDF or digital format only.
For any doubt kindly contact us