RAS Mains Module III E: Administrative Ethics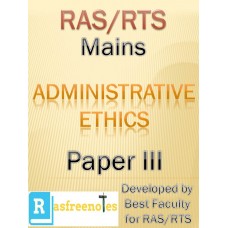 Administrative Ethics: Ethics and human interface: Essence, Determinants and Consequences of ethic and human actions-Moral values (rights and Duties; Good and Virtues), Cardinal virtues of Plato,
Utilitarianism- J.S. Mill, Freedom of will and moral responsibility
Kantian ethics, Ethics of Bhagavad Gita and its role in administration.
Dimension of ethics: Role of administrators in society and educational institution in the inculcating Ethics in private and public relationships- Behaviour, Moral and Political attitudes of administrators.
Medium of All Notes and Tests furnished by PSCNOTES.COM is English Only