RAS Mains Module III E: Administrative Ethics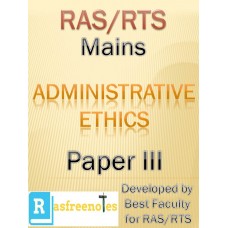 Administrative Ethics: Ethics and human interface: Essence, Determinants and Consequences of ethic and human actions-Moral values (rights and Duties; Good and Virtues), Cardinal virtues of Plato,
Utilitarianism- J.S. Mill, Freedom of will and moral responsibility
Kantian ethics, Ethics of Bhagavad Gita and its role in administration.
Dimension of ethics: Role of administrators in society and educational institution in the inculcating Ethics in private and public relationships- Behaviour, Moral and Political attitudes of administrators.
Medium of All Notes and Tests furnished by PSCNOTES.COM is English Only
Further all individual modules are in PDF Format, ie digital files only. Product untill specifically mention as printed/hardcopy are PDF or digital format only.
For any doubt kindly contact us