MPPCS Mains Paper I A (History)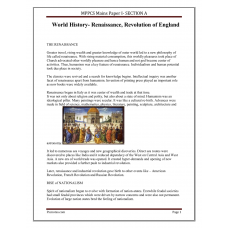 1.1 World History- Renaissance, Revolution of England, French Revolution, Industrial Revolution Russian Revolution. World War I and II .
1.2 Indian History -Political, Economical and Social history of India from Harappa civilization to 10th Century A.D.
1.3 Moguls and their administration, emergence of composite culture, Political, Economical and Social history of Central India from 11th to 18th Century A.D.
1.4 Impact of British Rule on Indian economy and society, Indian response to British Rule : Peasant and tribal revolts. The First Struggle of Independence.
1.5 Indian 'Renaissance: National Freedom movement and its leaders (with special reference to M.P.).
1.6 Emergence of India as a Republic, Reorganization of States, Formation of M.P. Major events of the post independence period.
1.7 Indian Culture, Heritage with special reference to M.P. : Salient aspects of Art Forms, Literature, Festivals & Architecture from ancient to modern times. World Heritage sites in India, Tourism in Madhya Pradesh.
Medium of All Notes and Tests furnished by PSCNOTES.COM is English Only
Further all individual modules are in PDF Format, ie digital files only. Product untill specifically mention as printed/hardcopy are PDF or digital format only.
For any doubt kindly contact us